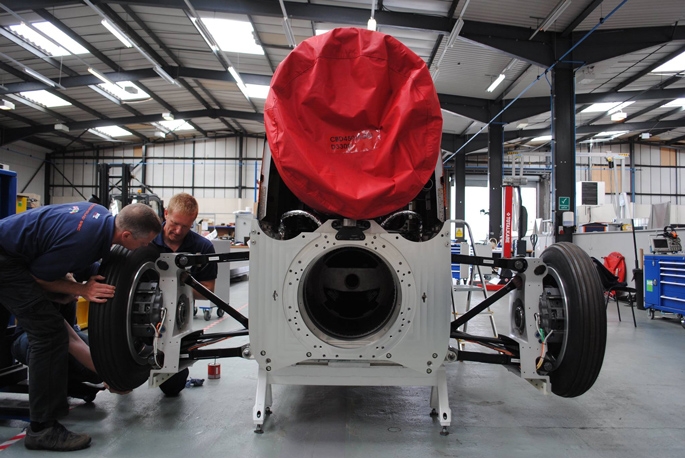 This event is now over. Thank you for joining us!
Frequently asked questions
Where and when
What are the event dates?
VIP Day is Thursday 26 October 2017; Public Open Day is Saturday 28 October 2017; Education Day is Monday 30 October 2017.
What are the opening times?
10am – 4pm
The car park will open from 9am and the gates to the main event will open at 10am.
Where is the event happening?
Newquay AeroHub 2,
Gate 6 past RAF St Mawgan,
St Mawgan,
Newquay,
TR8 4GP
This postcode should enable you to navigate there by satnav, but also see our event Find Us page for more information.
Please do not navigate using the postcodes for either Cornwall Airport Newquay or the Aerohub, as the event is happening on a different part of the site.
It is also possible to reach the event site by public transport or taxi - details are on the event Find Us page.
Tickets
How much will it cost to buy tickets at the event?
Entry to the VIP Day on 26 October is by invitation only. 
Entry to the Public Day on 28 October is by ticket only. These cost £65 for adults and £20 for children (aged 5 to 15 and accompanied by an adult). Children under 5 go free (when accompanied by an adult). Young people aged 16 and over need an adult ticket and may attend on their own.
Discounted Family tickets are available for families with two, three or four children. Discounted tickets are also available for Cornwall residents.Please see our ticket booking page for further details and to buy tickets.
Entry to our Education Day on 30 October is by ticket only.
All Cornish secondary schools are eligible to apply for free tickets for the Education Day only. To apply for tickets for this event, please click on the Education Day option on the ticketing page and then "Apply for tickets". Your educational institution needs to be validated, so there may be some delay in response.
All Cornish primary school children, as well as primary and secondary students from around the UK, are eligible to attend the Education Day on 30 October at a cost of £5 per ticket. Please also apply through the Education Day ticket option, giving details of your educational institution, and once this is validated you will be sent further details.
Find out more about coming to the Education day.
Are there any concessions?
Yes, we are offering discounted tickets for Cornwall residents and families on 28 October, and for schools and educational establishments on the Education Day on 30 October. See our ticket booking page for details.
Can I buy tickets on the event day and will card payments be accepted at the gate? If yes, does this include American express?
Yes, you can buy tickets on the Public Day (28 October) only. All major debit and credit cards will be accepted.
Tickets for the VIP and Education Days must be ordered in advance.
Can I upgrade my ticket?
Yes, you can upgrade, right up to the VIP Day on Thursday 26 October. Join the IK Club as a Gold member, or upgrade from Bronze to Gold membership and you will qualify to join us on the VIP day. 
Find out about 1K Club membership and upgrades.
What is your refund policy?
Should the event be cancelled, we will offer an alternative date and refund those who can't make that date, upon email request to the BLOODHOUND Project within six weeks of the cancellation date.
Who do I contact with any queries about my tickets?
If you have any questions or concerns about tickets you have purchased, please contact the Customer Service Team at support@yourticketbooking.com or call them on 0344 776 6777. Lines are open Monday to Friday 9am to 5pm excluding public holidays.
The cost to call 0344 numbers is the same as calling a normal local or national land line. If your tariff or call package offers free or inclusive calls to landlines, numbers starting with 03 may be included free of charge, but please check your provider's terms and conditions.
Parking
Will there be parking onsite?
Yes, there is ample public car parking and you will be directed to it by marshals.
The car park will open from 9am.
How much is parking?
Parking is free.
Is there a disabled parking area?
Yes, there will be a disabled parking area for visitors with a Blue Badge. The disabled parking area is around 10 metres from the security point. There is also a pick-up and drop-off point close to the security point.
Seeing the Car run
How far is it from the car park to the viewing area?
You will need to walk a fair distance from the car park to the airstrip where the Car run will take place. We advise visitors to wear comfortable flat shoes suitable for walking. 
(You will not be able to see the Car run from either the Cornwall Airport Newquay terminal or the airport car parks. The only place to see the Car run will be from the event viewing area.)
Will I be able to watch from indoors?
There will be activities both indoors and outdoors at the event. However, the viewing area to see the Car run is situated outside. Therefore we advise visitors to wear suitable clothing for standing outside for a period of time.
You can wear hats of all types when inside the event area, but please note that hats (other than close-fitting woolly/beanie style hats that won't blow off) and umbrellas will not be allowed in the viewing area due to the risk they pose if they should blow away. If the weather forecast indicates that it might rain, please bring suitable weatherproof coats. 
Please also hold on to any items and packaging that may blow onto the runway as this could be a safety hazard.
Will there be access for wheelchairs and buggies?
The area is accessible to wheelchairs users, mobility scooters, prams and pushchairs. Please find out more under the heading "Disabled access". However, we can't accommodate children's scooters, bicycles or other modes of transport apart from those stated above.
Will there be anywhere for me to leave my bags etc while I visit the activities or watch the Car run?
You are free to bring blankets and folding chairs, but we cannot look after property for visitors, so anything you bring must be carried with you throughout the day. In addition, please keep packaging to a minimum in order to avoid littering, as this can be hazardous on an airfield.
As the event takes place at an airport, there will be security on the day, so please be prepared to have your personal belongings searched when you arrive at the event. We recommend bringing as little as possible to facilitate the security checks on the day.
Will it be noisy?
The Car is noisy but it's also fast. If you want to bring ear defenders then you are very welcome, but the noise exposure will be minimal.
If you are bringing children to the event, we recommend you protect your children's ears by using ear defenders, as if you were attending an air show. Suitable ones are available to buy online. 
Disabled access
What facilities do you have for disabled visitors?
There will be free disabled parking available on all days of the event for holders of a Blue Badge. This is around 10 metres from the security point, but there is also a drop-off and pick-up point by the security point.
There is disabled access to the site and disabled toilets are available. 
There is a fair distance to walk out onto the taxiway to see the Car run, although most of the surface is flat and the site is accessible to wheelchair users and mobility scooters.
Please note we will not have wheelchairs or mobility scooters available on loan at the event. 
There will be allocated space in the viewing area for wheelchair users.
Visitors are free to bring folding chairs, but we cannot look after property for visitors, so anything you bring must be carried with you throughout the day.
Refreshments
Can food be purchased onsite?
Yes, there will be a food village supported by local Cornish suppliers.
Are there restaurants onsite? Can I pre-book?
Sorry, there won't be any restaurants onsite, but you will be able to buy food in the food village (see above).
Can I bring a picnic? Can this include alcohol?
Yes, you can bring a picnic with you, but you will not be allowed to bring alcohol on to the site. However, please note that this is an airfield, so do minimise packaging and ensure that all litter is carefully disposed of.
Alcoholic drinks will be available to purchase at the event.
Souvenirs
Can I pre-order a show guide?
Yes, you can order a show guide via the ticket booking system.
Can I have my show guide sent by post before the event?
No, unfortunately our show guides will not be available until the day of the event. When you order a souvenir programme, you will receive a voucher that you can exchange for your programme at the Souvenir Programme stand at the event.
Can we buy merchandise?
There will be a BLOODHOUND shop on site where you can buy BLOODHOUND merchandise and souvenirs of the day. You can also purchase items in advance via our website shop.
If we can't wear hats in the viewing area, will BLOODHOUND hats be on sale?
Yes, we will be selling our baseball caps and beanie-style hats at the event and these can be worn inside the event area.
Please do not wear any hats outside that may blow off as this is a safety risk. Anyone wearing hats other than fitted/beanie-style hats in the viewing area will be asked to remove them. Hoods attached to garments (such as hoodies and waterproofs) are OK.
Accommodation
Is there accommodation near the site?
For more information about nearby accommodation, please see the Visit Cornwall website on https://www.visitcornwall.com/places/newquay
Can I camp at the event?
There is no camping onsite, but there are local campsites which you can book. 
​Other questions
Will there be a viewing area?
Everyone will be given the opportunity to stand in a suitable place to see the Car run.
Please note that you will not be able to see the Car run from the Cornwall Airport Newquay terminal or car parks. 
Can I bring my dog?
No, sorry. Because the event is being held at an airport, animals are not permitted.
More information
For more information see our Terms and Conditions.
Don't forget to follow us on Facebook, Twitter and Instagram for the latest updates on the Project and the event.